There is perhaps no better place to be in Ohio for major attractions, than the Northwest region.
The area is home to a zoo and aquarium, world-class museums, a number of water parks and the roller coaster capital of the world.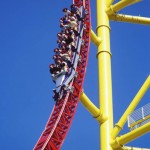 Located in Sandusky, is home to 14 roller coasters including Millennium Force, Top Thrill Dragster, and Raptor. In 2016, the Roller Coaster Capital of the World introduces riders to a new record-breaking dive coaster – Valravn. Besides coasters, the park is home to a number of thrill rides, water rides, family rides, kids' rides, as well as Soak City Waterpark.
For those who prefer water to thrill rides, Castaway Bay; Splash Bay Indoor Waterpark; Kalahari Waterpark, Resorts, and Conventions; Great Wolf Lodge; Maui Sands Resort & Indoor Waterpark; and Rain Water Park are all located within an hour's drive from Toledo.
Also within a short drive of Toledo is the Lake Erie Islands, which includes Put-in-Bay, a popular summer resort and recreational destination. Every summer thousands of vacationers head up to the islands for everything from boating on Lake Erie, historical tours, and nightlife entertainment.
Visitors to African Safari Wildlife Park can either drive or walk through the park and feed animals such as giraffes, while viewing ankole, zebras, bison, tortoises, a white alligator, and red river hogs.
The Toledo Zoo offers a more conventional approach to seeing a wide variety of animals. The Northwest Ohio Building Trades helped renovate the new, state-of-the-art Toledo Zoo Aquarium.